2023 HONOREES
HONORARY CHAIRS  – RICK AND NANCY FEHR – Richter & Phillips Jewelers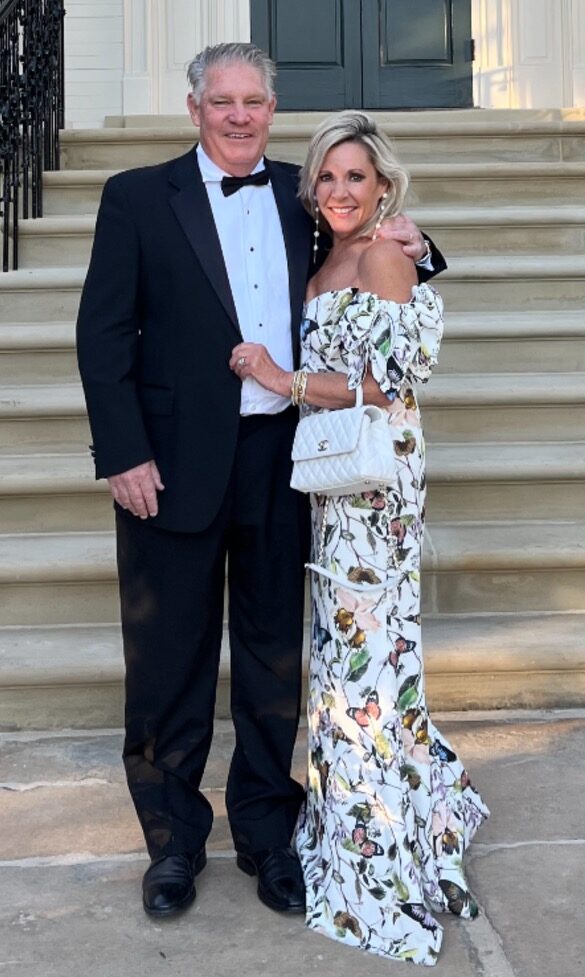 Rick and Nancy Fehr raised their family of 3 children in Cincinnati. They now have been blessed with 5 grandchildren. Both graduated from Miami University and Rick went on to graduate from the Gemologist institute of America as a Gemologist. He has been running the historic Richter and Phillips Jewelers for over 40 years. Nancy has been involved in many organizations over the years, chairing events for the Junior League of Cincinnati and Good Samaritans. She is a Board Member of the Cincinnati Ballet, Kids Helping Kids, Kenzie's Closet, and the Taft Museum of Art. Rick and Nancy were also active on Boards at their children's schools, Cardinal Pacelli, St Xavier University oversight and St Ursula Academy. Rick was also Civic Club President of Mt Lookout. Richter and Phillips Jewelers and Nancy and Rick support many non profit organizations including DragonFly, Children's Hospital and The Boys and Girls Club. Nancy has supported breast cancer issues and been involved in Pink Ribbon Survivors Circle and Pink Ribbon Committee for 15 years.
Together, Rick and Nancy have spent many years serving the Cincinnati community and we are proud to recognize them as our Honorary Chairs.
POWER OF PINK AWARD WINNER  – Cancer Support Community of Greater Cincinnati – Northern Kentucky
POWER OF PINK AWARD
The Power of Pink Award was created in 2007 to honor the outstanding efforts of a Tri-State individual or organization that has used their first or second-hand experience with breast cancer to give back to the community. The award recognizes valuable and often unnoticed people who dedicate their time to promoting breast health.

35 years ago, the Founders of the Cancer Support Community of Greater Cincinnati-Northern Kentucky (CSC) transformed the way our region faced cancer. Today CSC serves thousands of families and individuals annually, making a profound difference through personalized cancer support programs.
CSC offers weekly support groups, healthy lifestyle activities like yoga and meditation, educational presentations, family programs, and social opportunities to connect and reduce isolation. Their programs are funded through the generosity of community donors as well as Legacies Upscale Resale store in Hyde Park. CSC works tirelessly to fulfill their mission to uplift and strengthen people impacted by cancer.
We are happy to honor the organization with this year's Power of Pink Award to recognize their many years of service and direct impact in the community!
2022 – Janet Chambers – I Have Wings
Janet Chambers is a breast cancer survivor and the founder of I Have Wings. She was diagnosed with stage II breast cancer on her 40th birthday, and now, she continues to be proactive about her health and teach others the same. She is an inspirational speaker an author of "Thrive in Five -N- 5," a five week healing devotional.
After her cancer journey, she felt there were holes in our community to emotionally and financially support women during this challenging time. She immediately joined a local volunteer effort. In 2001, she was chosen as a Hero by Lifetime Network and flown to Los Angeles with her husband to celebrate her continued involvement in the community and her survival. The next year, I Have Wings Breast Cancer Foundation took flight.
2020/21 – Tammy Schroder
On March 15 2013 Tammy Schroder was diagnosed with stage 3 breast cancer and it dramatically changed her life. As she faced a mastectomy, chemo and radiation, she looked for a reason that this had happened to her. Her dear friend Janet would tell her daily, as she nursed her friend back to health, that God had a reason and she would find her purpose.
At the end of her radiation course, her Doctor announced that she and her husband  (also a radiation oncologist) would be moving to Pikeville, Kentucky to serve cancer patients. At that moment, she knew what God had in store for her life. Given this platform, she began asking for help through Facebook or anyone who would listen.  For the past 7 years the donations by friends, family and community have been nothing short of amazing.    Through her non – profit, the Bobby G and Me Foundation, she has delivered well over 100,000.00 in care bags, wigs, clothing, shoes, purses, bras, food and Walmart gift cards to help people struggling with cancer.
2019 – Dr. Karen Columbus
Born and raised in New Jersey, Dr. Columbus conducted her undergraduate education at Cornell University followed by medical school at Albert Einstein College of Medicine in NY. She then completed a general surgery residency at Thomas Jefferson University Hospital in Philadelphia. After finishing general surgery training along with her husband, she moved to Cincinnati so that he could continue to train as a plastic surgeon and she could start her practice as a breast surgeon. Since 1990 she has been caring for women with breast disease and treating breast cancer here in Cincinnati. She has dedicated her life to breast cancer issues and plans to retire in September.
2018 – Andy Grammer
Andy Grammer doubled as the entertainer and the Power of Pink recipient for the 17th Annual Pink Ribbon Luncheon. Grammer became a champion of breast cancer awareness and the importance of early detection after he lost his mother, Kathy Grammer, to breast cancer several years ago.  In partnership with AutoNation on his The Good Parts Tour, he donated $5 from every ticket sale to the Breast Cancer Research Foundation.
2017 – The Stefanie Spielman Fund for Breast Cancer Research
Maddie Spielman accepted the Power of Pink Award on behalf of the Stefanie Spielman Fund, which is devoted to advancing breast cancer research. All funds raised by the organization go to the Ohio State Comprehensive Cancer Center – James Center Hospital, where researchers are working to find a cure and developing new and innovative drugs. The Stefanie Spielman Fund has raised over $21 million to support the fight against breast cancer.
2016 – Calysta Bevier
Calysta received the 2016 Power of Pink Award for inspiring the nation with her courage and determination. At the age of 15, she was diagnosed with stage 3 overian cancer. After 21 chemo treatments and much love and support from her friends and family, she is now in remission and on a mission! She has appeared on The Ellen Degeneres Show, advanced to the semi-finals of America's Got Talent, and started her own foundation to support those fighting cancer. Her philosophy: "No matter what you've gone through, keep chasing your dreams."
2015 – Jeanne Sheldon
Jeanne Sheldon is the owner of Allusions, which specializes in hair loss solutions.  When her mother and sister went through chemotherapy, Jeanne saw how difficult it was for them when they began losing their hair.  Knowing the impact a beautiful wig can have, Jeanne was inspired to ease some of the pain of battling cancer.  Jeanne and the Allusions staff have helped many breast cancer patients cope with hair loss by providing high quality wigs.

2014 – Geralyn Lucas
Since her own battle with breast cancer, Geralyn has been committed to educating women on the disease and promoting early detection. Through her writing, Geralyn has inspired women with her positive attitude and sense of humor. Her first book, Why I Wore Lipstick to My Mastectomy, describes her experience as she overcame the many challenges associated with breast cancer. Her latest book, Then Came Life, which she introduced at the pre-luncheon discussion, reflects on life after breast cancer.
2013 – Protect the Pecs
Protect the Pecs was founded by male breast cancer survivor, Steve Del Gardo. Through his own battle with breast cancer, Steve learned that most of the paperwork, materials, and resources related to the disease were geared toward women. From his experience, Protect the Pecs was born. After his second treatment, Steve knew he had found his calling, so he started the organization to educate and raise awareness of male breast cancer.
2012 – Breast Cancer Alliance (BCA)
The Breast Cancer Alliance spent countless hours educating advocates on breast cancer and encouraging congress members to support the Accelerating the End of Breast Cancer Act.  The BCA, a volunteer organization, was founded in 1994 with a mission focusing on advocacy, education, and communication. The BCA served on the Board of Directors of the National Breast Cancer Coalition.
On a local level, the organization worked with the University of Cincinnati and the Cincinnati Children's Hospital on the Cincinnati Breast Cancer and Environmental Research Center. On the "Wall of Hope", a traveling exhibit promoting survivorship, the BCA displayed photographs and personal messages of area survivors.
2011 – Kent Wellington and the Karen Wellington Memorial Foundation (KWMF)
KWMF was created shortly after Karen Wellington, an extraordinary mother, wife, and friend, lost her battle with breast cancer. She was only 30 years old when diagnosed. As a young mother of two, Karen did not let breast cancer become a barrier in LIVING her life to the fullest. Her family created KWMF to encourage women battling breast cancer to appreciate the "here and now" and LIVE their lives like Karen. KWMF provides opportunities for women to celebrate their lives with "the legs that can still walk, the lungs that can still breathe, the mind that can still create, and the heart that can still love."
For more information about the Karen Wellington Memorial Foundation, visit http://karenwellingtonfoundation.org/ or find them on Facebook.
2010 – The Wellness Community
The Wellness Community offers support and stress management to cancer patients and their loved ones.  A friend of the Pink Ribbon wrote, "The Wellness Center is a place where support flows in an infinite circular motion, where those who receive support find themselves also providing support to others. It's a place that is inundated with positive energy, where I learned to live and even dance with the diagnosis."
For more information on Cancer Support Community, visit http://www.cancersupportcincinnati.org/.
2009 – Cathy Halloran
Cathy's own battle with breast cancer drove her to create Chicks and Chucks, a non-profit organization that provides financial and emotional support to women diagnosed with the disease. For more information on Chicks and Chucks, visit http://chicksandchucks.org/.
2008 – Pink Ribbon Girls
In 2008, the 2nd Annual Power of Pink Award was presented to the Pink Ribbon Girls. The Pink Ribbon Girls are a group of breast cancer survivors who are motivated by their shared experiences to make sure no one travels the road of breast cancer alone. The Pink Ribbon Girls focus on lightening the load for breast cancer patients by providing meals, housekeeping, transportation to treatment and peer support.
For more information on the Pink Ribbon Girls, visit http://www.pinkribbongirls.org/.
2007 – Janet Chambers
Janet Chambers is a breast cancer survivor and founder of I Have Wings. I Have Wings Breast Cancer Foundation is actively involved in the Tri-State community and offers assistance to individuals, families, or corporations when there is a breast cancer diagnosis. By educating the community, easing stress, and endorsing breast cancer research, I Have Wings is truly making a difference in the lives of women across the Tri-State.  For more information on I Have Wings, visit http://ihavewings.org/.

HONORARY CHAIRS

2021 – Jeff and Britney Ruby
2020 – Nick Jackson
2019 – Beverly Erschell
2018 – Robert and Julie Heidt
2017 – Bob and Suzi Brant
2016 – Elaine and Marvin Rosenberg
2015 – Patty Brisben
2014 – Mark and Ellen Knue
2013 – Anthony and DeDe Muñoz
2012 – Tom and Francie Hiltz
2011 – Lynnette Wyler
2010 – Nadine Brunner and Meggan Sulfsted
2009 – Sherie Marek
2008 – Jim and Helen Kereiakes
2007 – Honorable Judge and Mrs. Nathaniel Jones
2006 – Rob and Jane Portman