At the Queen City Classic Simul Reception, CCPF presents the annual Shining Knight Award, which was created in 2010 to recognize deserving individuals for their commitment to their communities.  Over the years, we have recognized a diverse group of people who share a common passion: improving the lives of others and being a positive role model to the children they serve. This year we make the move to continue the tradition of honoring the Shining Knight virtually.
2021 Shining Knight Recipient
JERALD TIMES
Jerald Times is a native New Yorker and a Harlemite. Jerald was also a youth chess player and started playing chess at age eleven! He became the Harlem Chess Champion at age fourteen. In 2002, he was designated Chess Master by FIDE, the World Federation of Chess. He was the winner of Seven National Chess Championships from 1993 – 2007. In 2010, Jerald was sent by the MacEnulty Foundation to teach chess in the townships of South Africa. Within a year, Jerald rose from township teacher to become National Coach of the country. This experience led to the birth of his project Chess Across Borders, finding common ground through the game of chess. In 2019, Times became the Chess Director of Success Academy Charter Schools. While Director, he wrote their curriculum singlehandedly and led their teams to four national titles. In 2021, he was recognized as Chess Instructor of the year.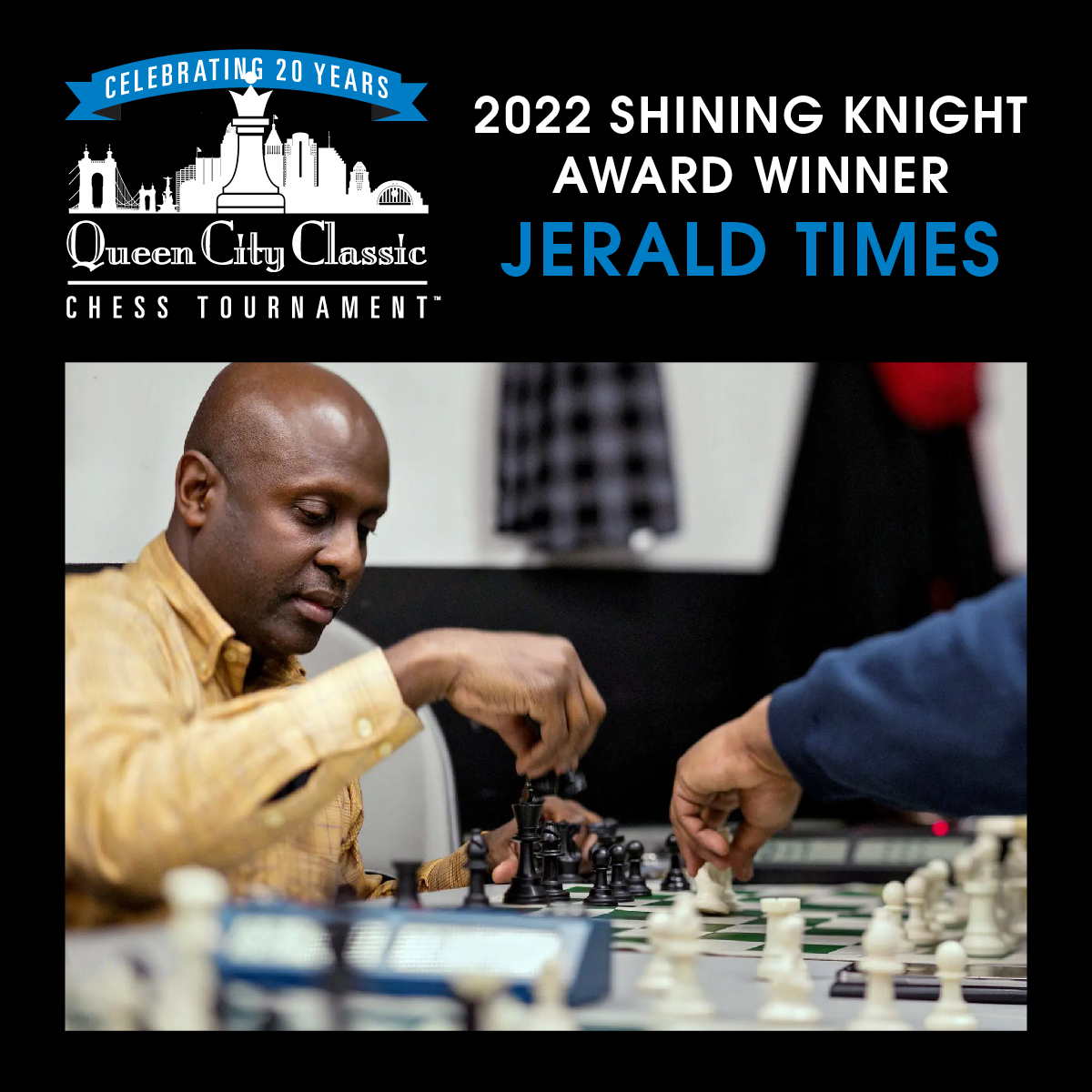 Past Recipients
2021 – Irina Krush, International Chess Grandmaster
2020- Tani Adewumi, NY State Primary Champion at 8 years
2019 – Suzy DeYoung, Founder of La Soupe
2018 – Jeff Ruby, Jeff Ruby Culinary Entertainment
2017 – Carlos Dunlap, Carlos Dunlap Foundation
2016 – Phiona Mutesi and Robert Katende, Ugandan chess players whose story inspired the Disney film Queen of Katwe
2015 – Mike Brown, Owner of the Cincinnati Bengals
2014 –  Ed Long, Chess Instructor for the Chess in Schools Program
2013 – Rochelle Ballantyne, Chess Player Featured in Brooklyn Castle
2012 – Dr. Phil Lichtenstein, Medical Director of The Children's Home of Cincinnati
2011 – Dhani Jones, Former Linebacker for the Cincinnati Bengals and Founder of BowTie Cause
2010 – Anthony Munoz, Pro Football Hall of Famer (Offensive Tackle for the Cincinnati Bengals) and founder of the Anthony Munoz Foundation